Diploma in Quantity Surveying
(R2/526/4/0115) (02/26) (MQA/FA8300)
Diploma in Quantity Surveying will become impetus for a challenging career as an assistant quantity surveyor or a technical assistant in providing the quantity surveying services in various construction related organizations both in public & private sectors.
Diploma in Quantity Surveying
This programme offers sufficient fundamental knowledge and technical skill to graduates performing well in the disciplines at professional level. Thus, the programme will enable those who admire to join the exciting and lucrative career in quantity surveying to be part of the internship programme by participating in the industry whereby they will get hands on training on the real Quantity Surveying working environment.
SPM 3 Credits including Mathematics, Bahasa Malaysia and English SPMV 3 Credits including Mathematics, Bahasa Malaysia and English O-Level 3 Credits including Mathematics, Bahasa Malaysia and English UEC 3Bs including Mathematics, Bahasa Malaysia and English Others Please refer to IMPERIA
Year 1
Year 2
MQA Compulsory Subjects
Year 1
English I
Construction Technology 1
Construction Materials 1
Technical Drawing
Office Automation
Measurement 1
English 2
Construction Technology 2
Construction Economics 1
Measurement 2
Site Surveying
Construction Law 1
Mathematics & Statistics
Construction Materials 2
Building Services 1
Structure
Year 2
MQA Compulsory Subjects
Study Duration:
2 years 4 months including internship (16 weeks)
**Modules are subjected to change without prior notice.
Terms & Conditions apply
Yearly Intake
February, June, September
Career Pathway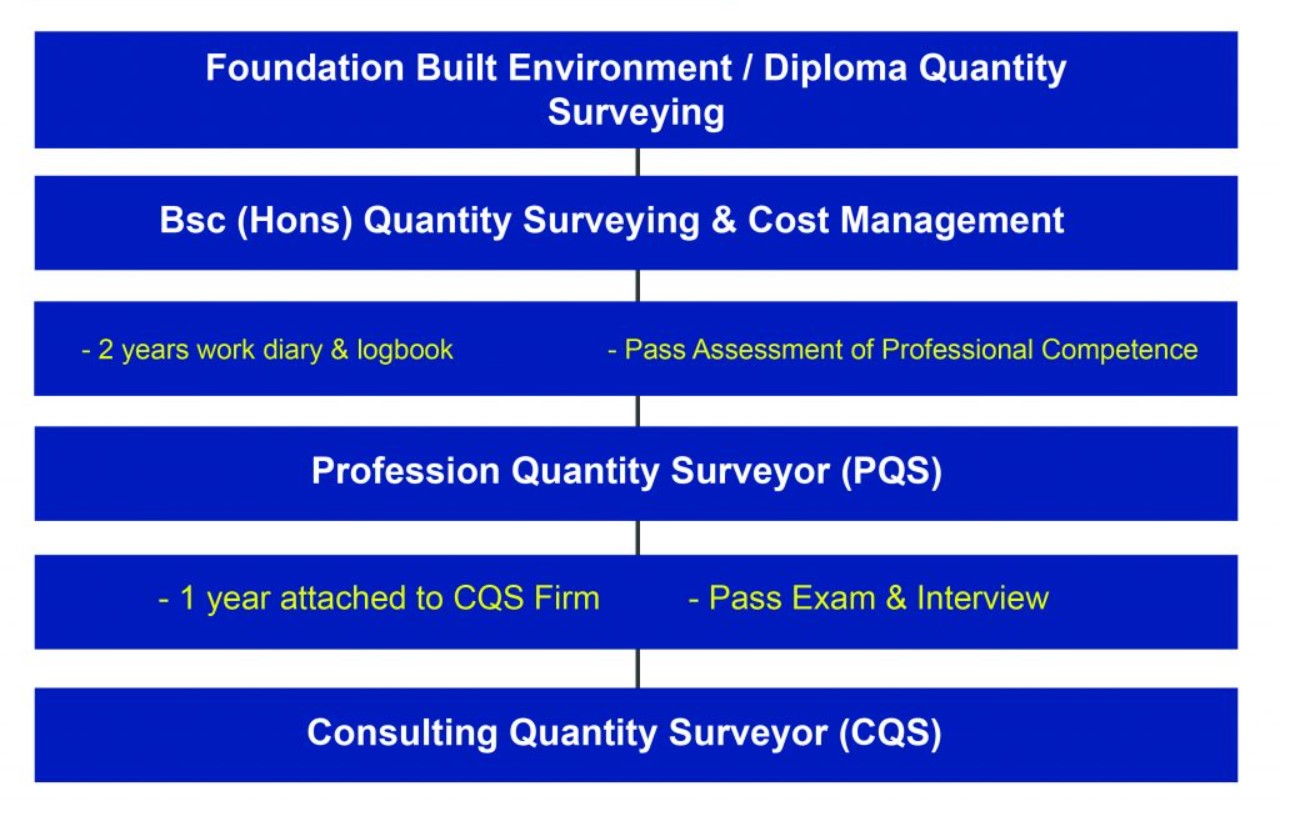 Career Prospect
Entry Requirement
Module Offered
Intake & Career Pathway
International Student Fee Structure
Career Prospect
Entry Requirement
Module Offered
Intake & Career Pathway
International Student Fee Structure