Fun teaching & learning

At IAT, students learn the subject and practice a hands-on skill in IAT industry ready facilities. Assignment, roles play, team building are some of the approach used to bring up the spirit of learning at IAT.
Students who master the skills and able to articulate their creativity of their work skills and performance and complete their certificate successfully will be offer a permanent employment with Bukit Gambang Resort City.
Study & Earn

IAT students are given an opportunity to work part time during their off day at Bukit Gambang Resort City or Sempurna Resort. While working, duty meals are provided. Student not only earning but at the same time experiencing the actual work in a hotel, theme park or resort thus will assist them in their study, knowledge and skills.
Student Services Unit

Our friendly staffs of Student Services Unit are ready to serve the needs of our students. The Student Services Department is responsible for handling matters pertaining to student welfare, counselling and career options for students.
Students are advised to approach the Student Services Department, Head of Departments or any qualified Counsellors with queries about career matters, academic programmes or even personal problems.
Counselling
A Programme Director and or a qualified counsellor is available to help you discover ways to cope with studies, stress, time management and personal concerns ranging from homesickness to relationship problems. Rest assured that the privacy and confidentiality of each student will be respected.
Scholarships & Financial Assistance
Study loans, grants and other financial assistance are available for students during their course of study at the Academy. Students can obtain more information from the Student Services Department.
Extra-curricular Activities
The Extra-curricular Activities Department undertakes various student enrichment and personal development programmes. These include educational talks by prominent professionals, teambuilding programmes, etc.
The Academy regularly organises annual extra-curricular events for the students.
Recreation Facilities
The Academy provides student activity centres for students to relax and unwind. The centre is equipped with computer stations and facilities for games and other activities.
Resort Campus
The Academy situated in an environment of serenity and most conducive for a hospitality teaching and learning experience. The students are free to use the resort facilities (terms and conditions applied) such as free 24 hours access of WiFi or student rate at swimming pool or theme parks. The concept "from industry to industry" really applies where students study, work part time and practical in a resort.
Every Friday students are encourage to wear their traditional clothing.

IAT students wearing their traditional Malay clothing; baju kurung.
Student Body Council

IAT encourage students to join or participate in any activities organize by the Student Body Council or even participate as a member of the council. The formation of the Council enable the students to organize any activities in a proper manner.
Extra-curricular Activities
The Student Body Council can either organize its own activities or propose to the Student Services Department for any extra-curricular activities. The Academy regularly organises annual extra-curricular events for the students as well co-organise with the Council such as sport, games, team building etc.
Accommodation

In order to cater for the accommodation needs of outstation students, the Student Services Department provides its own on-campus accommodation nearby Academy. This accommodation is provided with a minimal monthly fee to students with certain terms and conditions applied.
The Academy's objectives for providing accommodation to its students are, among others:
1. To assist students in developing independent living skills in an atmosphere of challenge and support;
2. To provide students with a comfortable and conducive atmosphere that will complement their studies;
3. To instill in the students, a sense of individual responsibility for accepted standards of community living through respect for property and privacy.
Students staying at IAT accommodations are required to follow the published Accommodation Rules for Student Accommodation. Any student who violates the Accommodation Rules may have his/her tenancy agreement terminated.
Any student who has outstanding dues pertaining to IAT accommodation will be sent reminder letters to settle these dues, failing which the Academy reserves the right to evict the student concerned from the accommodation. In the case of students who have graduated from / terminated the course and still have outstanding Academy accommodation dues, the Academy reserves the right to withhold their certificates / diplomas until the outstanding dues are settled.
Student Feedback
IAT is committed to providing an environment conducive to learning and strive to be the best in the industry. Student feedback is taken seriously. Academy procedures for handling student feedback and complaints ensure confidentiality, impartiality, procedural fairness, protection from victimisation and prompt resolution. Students have several avenues to which feedback can be channelled.
On the academic side, students submit a course evaluation every semester in which they have the opportunity to assess each course and lecturer. The evaluations are summarized for each course and lecturer. The Head of Programme will review the analyses confidentially with each staff and discuss areas for improvement.
While at Academy, we appreciate that students may face difficulties other than that pertaining to academic matters. Should students face any administrative difficulties or would like to voice any grievance; they should raise the issue directly with the person concerned where possible, or with an appropriate person in the school or the administrative unit concerned.
Transportation

The Academy accommodation is walking distance to the campus and college will arrange a transport for students who wanting to do a part time work during their off day with any hotel especially Bukit Gambang resort City arrange through Student Services Unit. However the Academy own van and bus or any other logistic can be provided if being arrange by the Academy for students' activities.
Testimonials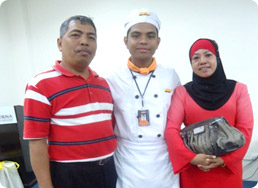 "I found that it is so mesmerizing and fun learning here In IAT, the environment is so relax and friendly staffs. I'm so proud to cook and serve to my parents during our serving class…" Mohamad Nizam from Puchong, IAT student and President of IAT Student Body Council 2011
"To my disbelief, my son can actually cook and it taste as good as what I'd in a restaurant. Thank you IAT to realize my dream and my son's."
En Zulkifli, Muhamad Nizam's father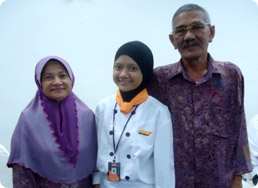 "I like it here, I learnt from a nice lecturers and able to do practical in a big modern kitchen just like in hotel. To my surprise my mom and dad love my cooking during our serving class. Thank you IAT…" Nurul Nayana, IAT student and V.President of IAT Student Body Council 2011
"I never thought my daughter cook, it is so pleased to see her so well mannered and professional in what she is doing. She will definitely have to cook at home…"
EnYahaya, Yana's father